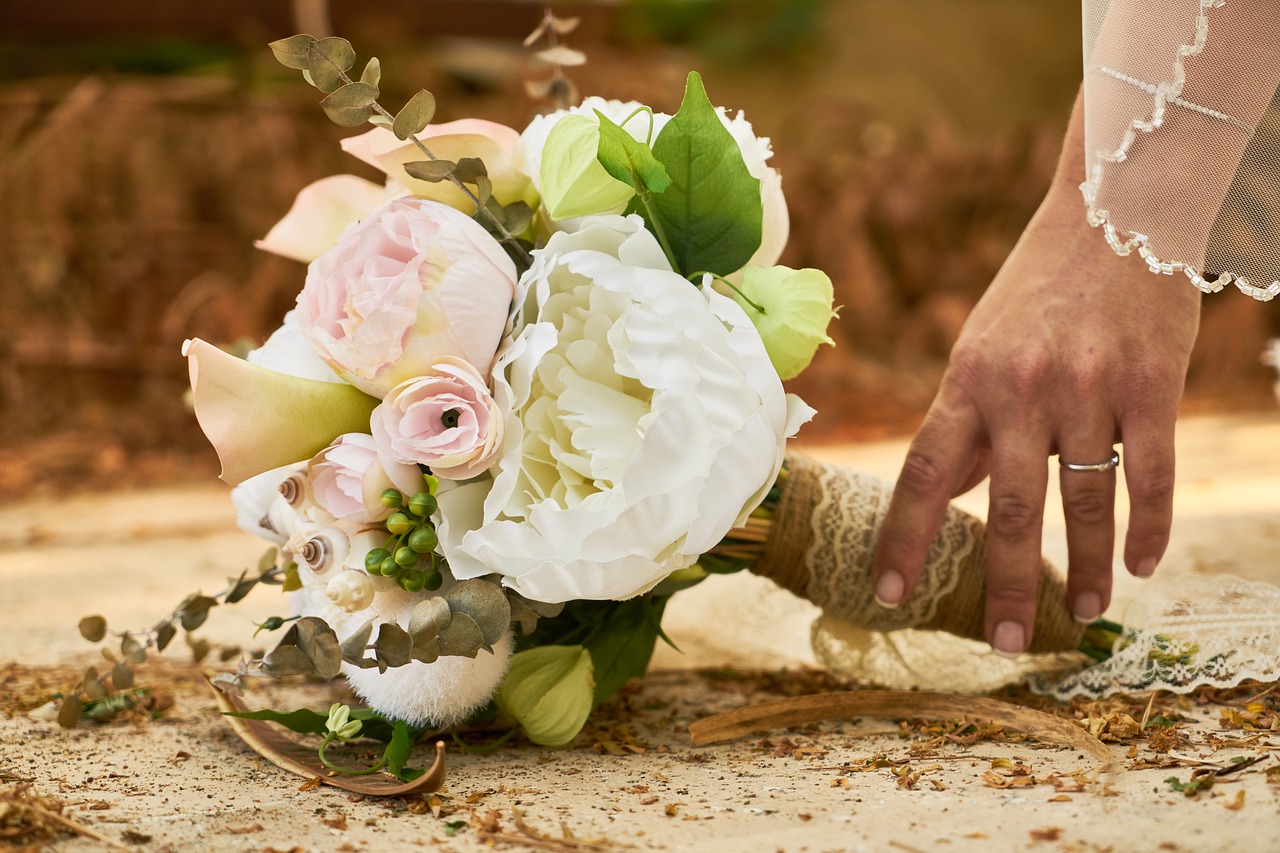 Largest Study of Its Kind Finds Over 75% of Couples Who Got Engaged in 2021 Have Already Set a Date for 2022, with Fall Being the Most Popular Season
Diamond Is the Most Preferred Center Stone for Engagement Rings, but Moissanite Continues to Gain Popularity Among Those Who Chose a Gemstone and Yellow Gold Is on the Rise
NEW YORK–(BUSINESS WIRE)–Today, The Knot, a leading all-in-one wedding-planning resource, released The Knot 2021 Jewelry & Engagement Study, revealing top trends in marriage proposals including an increase in outdoor engagements (73% vs. 40% in 2020), hiring photographers and other vendors to help with the proposal (19% vs. 12% in 2019) and the vast majority of couples continuing to exchange rings (93%) with the diamond as the preferred center stone (86%). The Knot surveyed more than 5,000 respondents who got engaged from January through November 2021 and found engagement planning timelines were back to pre-pandemic behavior, as the majority of 2021 proposals were planned more than a month out, versus 2020 when nearly 50% of proposals were planned within the month.
With nearly three in four engagements taking place outside this year, 35% occurred at a scenic spot such as a mountain top or a place with a city view. Further, nearly one in three engagements took place during a planned trip, up 7% from last year when many trips were halted.
With restrictions lifting throughout 2021, one in four proposers say they felt pressure to plan a unique proposal, back in-line with pre-pandemic numbers. Over 90% of couples announced their engagement on social media, with Instagram (78%) and Facebook (77%) being the most popular, and 20% of couples announced on Snapchat. Of those who got engaged in 2021, over 75% have already set a date for 2022, with fall being the most popular season. Roughly 85% of couples started wedding planning within less than two months, with 60% planning within a month of getting engaged.
"We're thrilled to see that proposals are returning to pre-pandemic behaviors. The majority of couples are already booking their weddings for 2022, as the wedding boom is upon us," said Shelley Brown, Senior Fashion and Beauty Editor, The Knot. "With this renewed excitement surrounding proposals comes an increased interest in highly personalized engagement rings. Oval diamonds, yellow gold settings and alternative center stones like moissanite and sapphire are all gaining popularity, speaking to couples' increasing desire to invest in wedding traditions that represent their specific love story and personal taste."
Additional key findings from The Knot 2021 Jewelry & Engagement Study include:
Shoppers Favor In-Store Ring Purchasing: While online channels, such as social media and jewelry websites, continue to be the leading resource for ring research and inspiration, proposers value the importance of in-store shopping. Sixty seven percent of rings were purchased in-store, with half of in-store purchases happening at local jewelers in 2021. Proposers visited two to three retailers and checked out 10 rings on average in-store before purchasing. Total engagement ring spend remained steady in 2021 at $6,000, in-line with pre-pandemic spend in 2019 at $5,900. Ring costs vary by type of stone, with the average cost of a clear diamond engagement ring being $6,800, versus an average of $2,500 for a gemstone. When comparing Millennials (ages 25-34) to Gen Z (ages 18-24), Millennials spent $6,700 and Gen Z spent $4,100 on the engagement ring in 2021. Additionally, of those that set a budget for the engagement ring, roughly two out of three stuck to that budget, while nearly 30% spent more than planned (up +9% since 2020).
Ring Aesthetics are Changing, But Diamonds are Forever: The most popular type of engagement stone continues to be diamonds (86%), with round (41%) remaining the most popular cut, however, oval shape has seen a steady increase in popularity over the years (2% in 2015 to 19% in 2021). Shape and setting continue to be the most important ring features, while size has become less important. The popularity of white gold engagement rings has declined over the years, with 61% of rings being white gold in 2017 to now less than half in 2021 (45%). On the contrary, yellow gold engagement rings are once again gaining popularity, with an 11% increase since 2017. The average size of an engagement ring is 1.5 carats in total, with one in four engagement rings over two carats in total.
Among the 10% of respondents who chose a gemstone for their center stone, the most popular is moissanite, which now accounts for more than one-quarter of non-diamond stones (28%, +9% vs. 2019), and is even more popular among Gen Z (35%). An eco-conscious mindset is rising among couples, with 34% finding it increasingly less important that the ring/stone be a natural stone (-8% since 2019), with Gen Z (28%) finding it less important than Millennials (35%) and Gen X (41%). Nearly one in four engagement rings in 2021 featured a center stone that was man-made, up 11% in the past two years, demonstrating dedication to sustainability.
Hinge Increases in Popularity as Couples Continue to Find Love Online: The majority of couples date for 2+ years before getting engaged (70%) and online dating continues to be the most popular way they meet (one in four), with 35% of those aged 35+ finding their partner online. While roughly one in four couples met on Tinder (27%) and Bumble (23%), Hinge is becoming an increasingly popular dating app for meeting a future spouse, used by 21% and up 18% since 2019. Among 18–24 year-olds (44%) and 25-29 year-olds (30%), Tinder was the most popular way engaged couples met, and Bumble was the most popular dating app among 35+ (22%).
Wedding Plans are Happening Even Before Engagement: Nearly 90% of couples say they talked about at least one aspect of their wedding prior to getting engaged (89%), with nearly 70% of couples taking at least one wedding planning action prior to getting engaged. Of those who got engaged in 2021, over 75% have already set a date for 2022, with Fall being the most popular time frame. Roughly 85% of couples started planning within less than two months, with 60% planning within a month of getting engaged.
In celebration of all the couples getting engaged this year, The Knot is hosting a Proposal Season contest with major prizes from Men's Wearhouse and the Las Vegas Convention and Visitors Authority. Share your proposal story here for a chance to win up to seven free rental packages from Men's Wearhouse, roundtrip flights for two to Las Vegas with a two-night hotel stay, dinner and show tickets for two, a wedding ceremony package to say "I do" in Vegas and a $5,000 American Express e-gift card. See here for official rules.
Methodology:
The Knot 2021 Jewelry & Engagement Study was conducted in November 2021 among more than 5,000 adults who got engaged between January 2021 to November 7, 2021 (N=5,017). All respondents were adults aged 18-54 who provided their emails to The Knot Worldwide. Respondents were from a variety of locations around the U.S.
About The Knot
The Knot is the nation's leading digital wedding resource offering a seamless, all-in-one planning experience—from finding inspiration and local vendors to creating and managing all guest experiences, wedding registries and more. The trusted brand reaches a majority of engaged couples in the US through the #1 wedding planning website TheKnot.com and #1 iOS and Android mobile app The Knot Wedding Planner, The Knot national wedding magazine, and The Knot book series. Since its inception, The Knot has inspired approximately 25 million couples to plan a wedding that's uniquely them. Visit The Knot online at TheKnot.com and follow on social media: Facebook.com/TheKnot and @TheKnot on Twitter, Pinterest and Instagram.