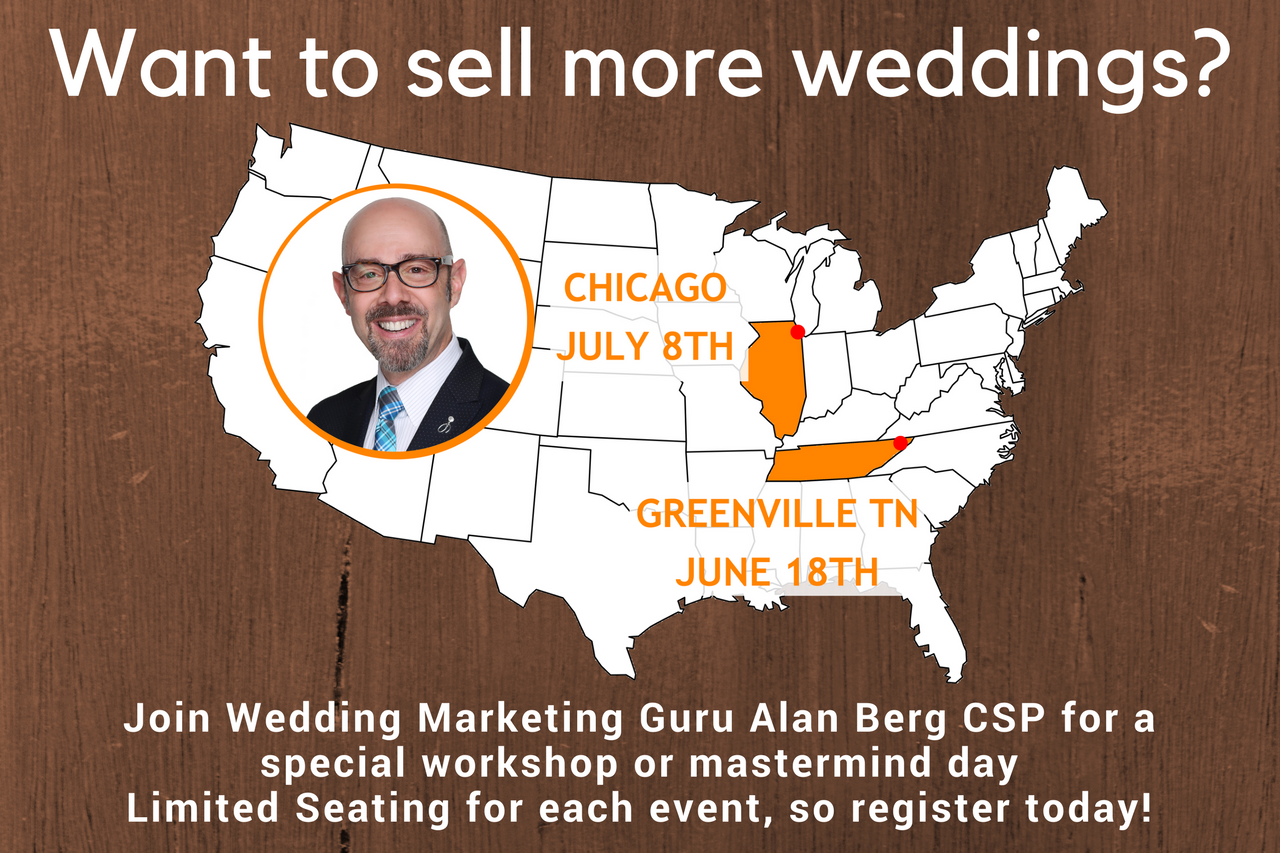 DJ Business Masterclass: the 4 Steps to More Wedding and Event Sales
Monday, June 18, 9:30am – 4:40pm
Improving your performance skills is great, but if you don't make the sale, you can't use those skills. In this Masterclass, marketing guru Alan Berg will take a small group through the 4 Steps To More Sales:
Getting their attention
Getting the inquiry
Getting the appointment/conversation – converting those inquiries
Getting the sale!
You'll walk away with real action steps that can help you convert more leads and close more sales, right away!
We're limiting this only 15 people so Alan can give you direct advice on how to improve your business process, from how you email/text with prospects, to improving your advertising and website conversion, to how to talk about price – before you really want to.
Are you serious about selling more, at higher dollars? Sign up today and secure your seat. You don't want to miss this opportunity.
Use this link and save $50 off your ticket: https://4stepstn.eventbrite.com?discount=mm50
Chicago Mastermind Day with Alan Berg CSP
Sunday, July 8th, 11am – 5:30pm
What's better than hearing great presentations? How about also spending the day, in a small group, with Alan Berg CSP! That's right, when Alan Berg goes to Chicago this July for The Marquee Show, he's coming in early to host a Group Mastermind Day, but only for up to 10 businesses. Will you be one of them?
What is a Mastermind Day? – It's a collaborative learning, and consulting session, where up to 10, success-minded businesses, spend the day discussing common business challenges, concerns, and techniques.
Is this only for DJs? No, this is for all Wedding & Event pros – but only the first 10 businesses to register (1 or 2 people per business, same price)!
Use this link and save $50 off your ticket: https://chicagomm.eventbrite.com?discount=mm50